| | | |
| --- | --- | --- |
| | Premier League | |
Registration
Registration for the 2014 Premier League closed on December 5th, 2013. Sorry. Check the Region 9 website this Spring for information about Registration for the Fall 2014 season.
Schedules and Team Coaches Listing
Here is the current Practice Schedules for 2014.
Here is the Game Schedule for 2014.

Here is the Field Map for the Premier League Games

Field Map for the Premier League Games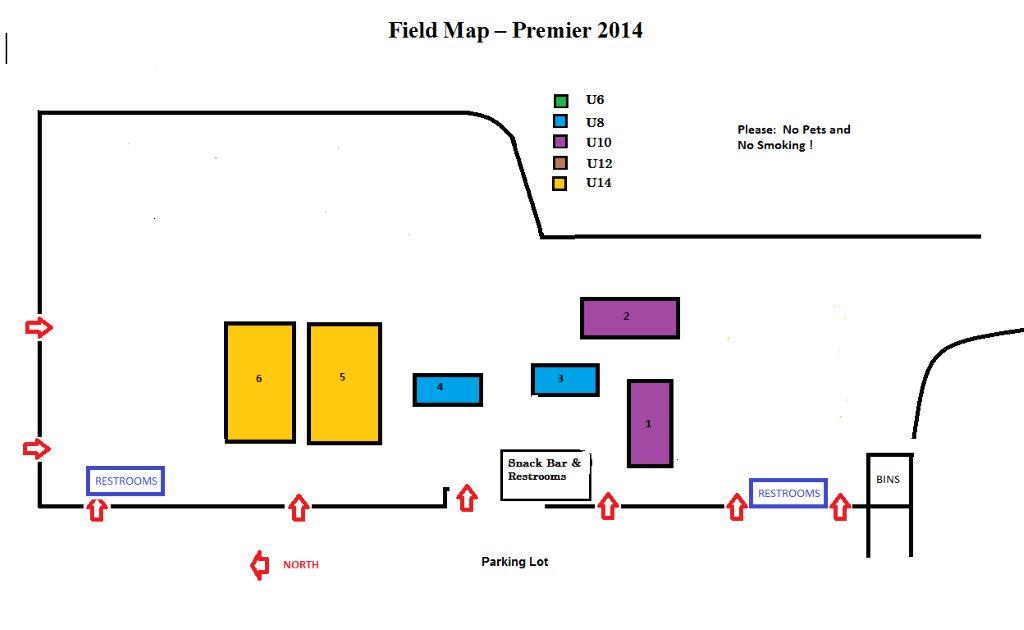 Here is the Referee Schedules for 2014.
Here is the Team Coaches for 2014. This will updated soon.

News & Updates
The MANDATORY Coaches Meeting will be held Saturday January 4th, 8:30am, at the Conejo Creek South meeting room. (added 12/26/2013)
List of Coaches
Game Day Field Map
Game Schedules
Please keep in mind that every team is REQUIRED to provide Adult Volunteers twice during the 2014 Premier League season. There is no sign-up for individual tasks, just per team. You show up for your team about 10 minutes before your assigned time slot and we put you to work.
Information for all Premier League Referees (new and returning) can be found at Premier League Refs. Referee Schedules are based on the Game Schedules. If the Game Schedules change then the Referee Schedules will also change. Contact Chuck Huffer if you have questions about self-scheduling.
Referees can now schedule themselves for games using the same Referee Scheduling program as was used for the Fall season.
If you were not a Region 9 referee last Fall, contact Chuck Huffer with the following information so that you can be added to the Scheduling database:
Full name
AYSO ID#
Badge level (Regional, Intermediate, etc.)
Contact info (e-mail address, preferred phone number)
Referee experience last Fall (e.g. U10AR, U14 Center)
What Is Premier League?
After the regularly scheduled season families get busy with the holidays and many children move on to other sports. What do you do if your child still wants more soccer?
Premier League stresses skills and fun for players in the U07 through U19 age groups. This program is run by Region 9 and has no advancements to other levels. The number and size of teams we field depends on the amount of adult support we receive. Sorry, but Premier League does not have teams for the very youngest (U06) players
We expect that children who are selected for Tournament or Extra teams, or play for Club teams, will not play in this Premier League so they can devote their time and talent to one team. However, submitting a Premier League Application does not exclude your child from consideration for Tournament Teams.
General Information
Fee: The fee is $70 per player. Players will receive game jersey, shorts, socks and Premier League T-shirt. Refunds will only be accepted through January 11, 2014. NO Exceptions!

Game Dates: The first games will be January 11th, 2014. Weather permitting, each team will play 7 games prior to the end of the season in early March. Game schedules will be posted above when they become available.

Practices: The first practices will begin the week of January 6, 2014 and will be scheduled Monday through Thursday. Each team will practice once per week. U7 & U8 practices are 60 minutes; U10 - U19 practices are 90 minutes.

Location: All games and practices will be held at the Conejo Creek South soccer fields in Thousand Oaks located at the southeast corner of the 23 freeway and Janss Road.

Players: Children that played during the regular season in U7, U8, U10, U12, U14, U16 and U19 divisions will be placed in the same age grouping. Players joining for the first time will be placed based on their age as of July 31, 2013. There will be no "playing up" or "playing down" into different divisions, so please do not ask for such requests as they will not be honored.

Coaches: Coaches are selected based upon prior experience, interest, ability, prior completion of AYSO training and/or certification and support of the AYSO philosophy. Every effort will be made to have a variety of coaches from Region 9 and other Regions.

Referees: Each team will be required to provide one (1) referee. We may be holding a Referee Clinic on in early January to assist any new referees.

If you are an AYSO-certified Referee from outside of Region 9 and would like to Referee during the Premier League, you need to make sure that you are in our Referee Scheduling database (this is not the same as eAYSO!). Go to http://www.ayso9.org/Region9_2004/RefInfoUser.asp and enter your AYSO ID# and your last name to see if you are already in our system. If not, fill in all the information on the form on that web page and click the Add button at the bottom of the page.

Team Volunteers: Every team is REQUIRED to provide Adult Volunteers twice during the 2014 Premier League season. These volunteers are critical to ensuring that our players have a fun and safe soccer experience. Team Volunteers will be assigned jobs as needed. Each team must send two (2) volunteers for each shift and we ask that they check-in at the Information Booth at least 10 minutes prior to their assigned times.
Team Structures
U7 & U8: Teams play 7 v 7 with 20 minute halves and games are governed by the same rules that were used in the regular season in Region 9.
U10: Teams play 7 v 7 with 25 minute halves and games are governed by the same rules that were used in the regular season in Region 9.
U12: Teams are co-ed playing 9 v 9 with 30 minute halves.
U14, U16 & U19: Teams are co-ed playing 11 v 11 with 30 minute halves.
Contact Information
If you have questions or need more information, please contact one of the following:
Important Dates
January 4, 2014 - 8:30am, Mandatory Coaches Meeting, Conejo Creek South Community Building
January 6, 2014 - 1st week of practices
January 11, 2014 - Opening Day
March 1, 2014 - The last of day of Premier League